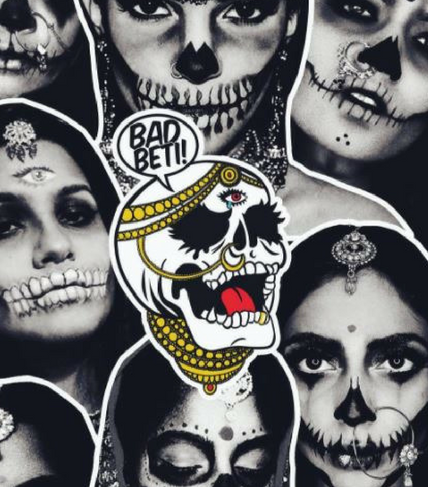 Every year on Halloween, certain costumes and looks are always trending. Pop culture hits of that year shine the brightest on Oct. 31. We fully expect Wonder Woman and Star Trek to rule at the costume parties. However, for desi women, there are some limited options when it comes to choosing a look tailored just for them. Luckily, Bad Beti is here to change all that.
Maria Qamar, better known as Hatecopy, started the #badbeti trend last year when she posted this artwork last year:
Bad Beti, which means a bad daughter in Hindi, is here to shatter all your racial South Asian stereotypes about women. Qamar is an Indo-Canadian illustrator whose work has always been subversive and absolutely badass. This is no different.
Her goal wasn't only to take something that belonged to her culture and give it a modern upgrade. She's often said she uses her art to bridge the gap between her Indian and Canadian roots. "Bad Beti talks about the struggle of an immigrant who feels the need to assimilate to a new world and all the grief attached to it. It's a stem of the anger and depression that I suffered as a child and sometimes still continue to deal with," Qamar said in her blog post.
This look inspired many beauty bloggers last year to go all out on Halloween. It yielded some stunning results that you can easily use this year as well. Bad Beti isn't a one and done thing. It's here to stay because the meaning behind it hasn't diminished. If you search #badbeti on Instagram, be prepared to see a flood of really edgy, bold looks.
Here are some looks you can do for Halloween this year. Make it your way of saying "screw the patriarchy" and give no fucks. And if you're as lazy as I am, the easiest way to be a Bad Beti this Halloween is to buy some solid apparel, which was even featured on "The Mindy Project." That's right, Mindy Kaling approves!