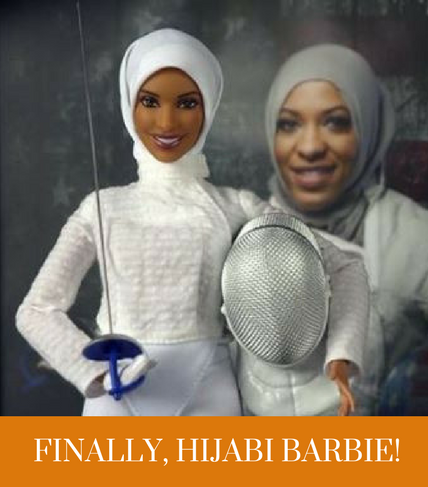 Mattel honored Ibtihaj Muhammad, the first Muslim-American Olympic winner, with a Barbie in her likeness as part of their "Shero" program. The Olympic fencer was awarded the doll by last year's honoree, model and activist Ashley Graham, at Glamour's Women of the Year summit in New York City. Muhammad was thrilled because there was finally a doll that she, and girls like her, can relate to.
Thank you @Mattel for announcing me as the newest member of the @Barbie #Shero family! I'm proud to know that little girls everywhere can now play with a Barbie who chooses to wear hijab! This is a childhood dream come true 😭💘 #shero pic.twitter.com/py7nbtb2KD

— Ibtihaj Muhammad (@IbtihajMuhammad) November 13, 2020
Muhammad's Barbie sports a white fencing uniform and a hijab. This is the first time Mattel has created a hijabi Barbie. By bringing to life this history-making Barbie, the company aims to inspire millions of young minds to redefine the modern woman. In a statement regarding Muhammad's new Barbie, Glamour's Editor-in-chief, Cindi Leive said:
"Ibtihaj Muhammad has challenged every stereotype—which to me is the definition of a modern American woman."
Mattel has been criticized for their one-dimensional Barbies for years but the company is using the power of the timeless doll to battle her "air-head persona and unrealistic physical proportions by actively working to change their image in the media." The company has not only created their "Shero" program in 2015 to honor inspirational females who are "breaking boundaries and expanding possibilities for women everywhere" but in 2016 they released a new line of Barbie dolls that come in a variety of skin tones, heights, and body shapes.
The "Shero" program is a clear response to Barbie's critics that she, too, needs to evolve with the time. Along with Graham and Muhammad, the "Shero" program has honored Olympic gymnast Gabby Douglas, ballerina Misty Copeland, director Ava DuVernay and actress/singer Zendaya. Barbie isn't the only one evolving. Mattel released Ken dolls in 2017 that comes in three body types and seven skin tones.
"Barbie is every kind of woman now and that's why it's so exciting to be a part of this journey with Barbie," Graham had said to Muhammad when she presented the latter with her new doll. "You embrace what makes you different, what makes you stand out. And that's what Mattel wants—they want women who are championing their differences."
Muhammad is a worthy candidate for Mattel's honor. She is not just a ground-breaking Olympian but also a designer who has created her own line of modest yet fashionable clothing called Louella. Muhammad is a public speaker, advocating for sports and education around the world, and she is the sports ambassador for the U.S. Department of State's Empowering Women and Girls Through Sports Initiative. She's even made TIME magazine's "100 Most Influential People" list last year.
You'll be able to get your Hijabi Barbie come 2018!