Carnival Row season 2 is finally renewed. The neo-noir fantasy tv series is now back for a second season. Carnival Row premiered on Amazon Prime in 2019, introducing viewers to a dark, Victorian-style dystopian society wrecked by war and racial hatred, starring Orlando Bloom and Cara Delevingne.
The twist was that it wasn't people's skin color that mattered, but their species, as fairies and other mythological creatures made up the refugees who were rejected in their new human home.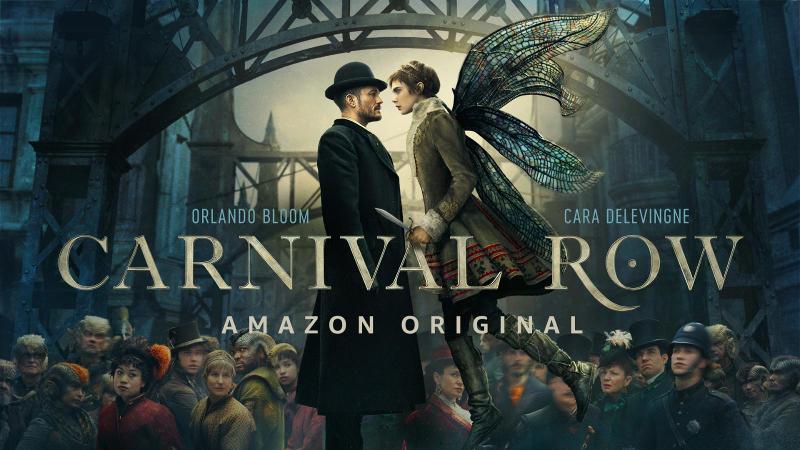 But, with Covid wreaking havoc on many series' production schedules, when will we learn what happened to our heroes Philo and Vignette? Here's what we know so far about the second season of Carnival Row.
Carnival Row Season 2 Release Date
While it's true that the last time the show graced our screens was back in 2019, and that Amazon had already commissioned season 2 before the first one aired, there's still no announced date for the return of the series.
It's been widely reported that filming began at the end of 2019, only to halt when the pandemic took hold in 2020. We've seen multiple accounts stating that filming has since resumed and actually finished up in August 2020. So, does this mean it will appear any day now? Well, not quite.
There is a lot of post-production involved with shows like Carnival Row, especially for the rendering of the large, Victorian-style city and its vast array of magical residents. With that being said, it would be unusual for something like this to take more than a year, so it does seem likely that Amazon may unveil the latest installments of the show quite soon. With that stated, it would be odd for something like this to take more than a year.
Carnival Row Season 2 Trailer
The release date for Carnival Row Season 2 has yet to be announced. As far as we know, no trailer has been officially released. As a result, they decided to continue filming in May 2020. The audience will be notified once the trailer is released.
Cast for Season 2
Season 2 is scheduled to have the same cast, with the following actors repeating their roles:
Rycroft 'Philo' Philostrate is played by Orlando Bloom
Vignette Stonemoss is played by Cara Delevigne.
Runyon Milworthy is played by Simon McBurney.
Imogen Spurnrose is played by Tamzin Merchant.
Agreus Astrayon is played by David Gyasi.
Tourmaline Larou is played by Karla Crome.
Jonah Breakspear is played by Arty Froushan.
Sophie Longerbane is played by Caroline Ford.
Ezra Spurnrose is played by Andrew Gower.
Behind the scenes, however, there have been some changes, with Deadline claiming that season one showrunner Marc Guggenheim has departed the program to focus on other projects he is already working on. Erik Oleson will take over as showrunner, bringing his recent experience from the Netflix series Daredevil's third season.
Travis Beacham, one of the show's creators, has exited the production claiming artistic differences as a reason for his departure.
Season 2 Story & Plot
We saw Jonah and Sophie become more integrated into the final episode of Season 1. Vignette and Philo fight with power while seeking to start a new life on Carnival Row, which is home to all mysterious beings. As Philo learns more about his half-fairy past, he finds himself in this position. Fae reaching up to Jonah and Sophie will most likely be the focus of Season 2. It will undoubtedly set off a cascade of emotions based on elation, enchantment, and pleasure.
Season 2 of Carnival Row will provide answers to what happened to Imogen and Agreus after they fled The Burge. In season 2, we may expect to witness all of these mixed thrillers, as well as answers to the puzzles.
Carnival Row 2: Updates on the Show's Production
Season 2 production began in November 2019 but was halted in March 2020 because of the COVID-19 outbreak. The planning for the resumption of creation began in the first week of May.
As a result, Amazon had yet to extend its production on the show as of June 2020. The creation cast was allegedly three weeks away from wrapping up filming for the season when production was halted due to the pandemic.
Final Take
The story of Carnival Row appears to be both strange and intriguing. If you haven't seen the first season yet, do so right now. I promise you will not be disappointed. Post any questions or concerns in the comments area. Keep an eye on us for the most up-to-date information.