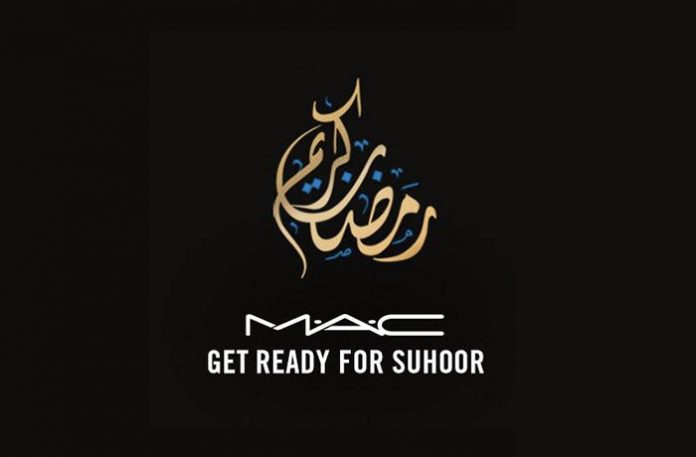 While mindlessly scrolling through my timeline on Facebook I came across a promotional video by MAC makeup for a "suhoor look."
Yaaassss Muslimahs, I said suhoor, not Eid, not even an iftar party look, suhoor.
For my non-muslims who don't comprehend my passive-aggressive outrage, suhoor is the mealtime during Ramadan where people wake up in the middle of the night to eat an early breakfast. Though the exact time varies depending on your location, it tends to be around 3:30 in the morning.
I don't know about you, but when I wake up for suhoor I am a sleepwalking zombie trying not to die walking downstairs to the fridge feeling like
Who has the energy and need to do a smokey eye look at 3 freaking 30 a.m. Who am I dressing up for - my post-midnight date with my refrigerator?
Suhoor is a time to eat and later pray, but in order to pray, you must first do wudu, the washing up before prayer. During this time I must wipe off all the makeup that MAC just told me to put on. I have faith that my fellow Muslimahs have enough common sense to put on just enough makeup to look human if they are going out for suhoor, ain't nobody got time to put on a full face of makeup only to wipe it all off 20 minutes later to pray.
MAC isn't the first company to dive into the Muslim market, many high-end companies like Dolce and Gabbana and Nike have been tapping into the Muslim fashion and beauty scene in the past few years. The Muslim market is a rapidly growing and by dipping their toe in this field these large companies not only profit immensely, they also use their platform to promote diversity and inclusion in doing so. Sounds like a win-win situation, right?
While I commend the executives at MAC for this attempt, I am disappointed that it was not as successful as it could have been. Were there no actual Muslims involved in the development and implementation of this promotional strategy? What happened in this boardroom?
MAC CEO: We need to tap into this Muslim market, I hear it's a holiday time
WHITE MALE EXECUTIVE WHO MET A MUSLIM ONCE IN LIFE: I got this, I know all about the Mooz-lums.
The token brown person in the boardroom when MAC proposed a "Suhoor look" : pic.twitter.com/oD5ScZfczM

— Laila Manack❄ (@lailamanack) May 26, 2021
Which is why we end up with this:
MAC expects me to put on a full face of makeup, complete with smokey eye and glittering eyeshadow just to go to the kitchen for food?
Their full tutorial video was removed on Sunday from the MAC Middle East page. Muslims, especially those located in western nations, have been roasting the video on Twitter and the media has taken note of MAC's faux pas.
Clearly MAC cosmetics doesn't realize what time suhur is 😂😂😂 These big companies are too lazy to consult with Muslim women but still try to gain there $$$ @MACcosmetics pic.twitter.com/lNkdZyM4Zz

— Daniela (@danielambiah) May 26, 2021
What Mac thinks the "suhoor look" is versus what it actually looks like pic.twitter.com/HmcQsMbqBf

— Yomna Nassar (يمنى) (@yummmmna) May 26, 2021
@MACcosmetics y'all wildin. This is the real Suhoor look. #realsuhoorlook pic.twitter.com/p0dwW1tp0k

— Moiz Awesome Qureshi (@MoizAwesome) May 26, 2021
MAC did a whole "glamorous suhoor" look.

Imagine wearing makeup only to go back to sleep.

— Shaima Dallali (@TunisianRose) May 26, 2021
MAC cosmetics did a glamorous make up look video for SUHOOR. I can barely find my slippers and toothbrush at 4am, I'm definitely not going to find eyeliner and concealer. Mxm.

— Homaira Khan (@HomairaKhan) May 26, 2021
Hey @MACcosmetics, how do you like my "glamorous suhoor" look? pic.twitter.com/g3WGGS8zxC

— Tasnia Nasar (@tasnia_n) May 28, 2021
So @MACcosmetics have done a "Get ready for a glamorous Suhoor" look. Yes, you read that right: "a Suhour" tutorial because, you know, there's obviously a gap in the market for looking like a glamorous zombie at 3 in the morning, stuffing food into your dry, appetite-less mouth.

— Yasmina (@animsche) May 25, 2021
hey @MACcosmetics, thanks for inspiring today's suhoor look. i used years of irregular sleeping patterns under my eyes and impenetrable arab genes on my lashes and eyebrows. ramadan mubarak ✨ pic.twitter.com/QFblgwjkao

— dina sayedahmed (@bintabuahmed_) May 28, 2021
Comments from MAC's suhoor look tutorial!!
Can't stop laughing 😂😂👏🏻 pic.twitter.com/OilJAAgDwr

— فاطمہ (@Fatima_KD6) May 27, 2021
I realize I look like a natural disaster during suhoor, @MACcosmetics, but this won't solve any of my fasting problems at 3 am.

Come out with an alarm clock that serves me a hot omelette at my bedside, then we'll talk. #dontcapitalizeonmystruggle pic.twitter.com/pFUFOjRHyv

— Varisha Khan (@VarishaMK) May 26, 2021
Even Muslim men are not this clueless. These Muslim brothers also had a laugh at the "suhoor look" tutorial.
im not a muslim girl but i'm 99% sure the last thing on a muslim girl's mind waking up at 4:30am to quickly eat and pray is to look good while doing so 😂 https://t.co/tRiv6f08lG

— subhi taha (@subhitaha_) May 26, 2021
Shoutout to @MACcosmetics for being completely clueless… mans said "glamorous suhoor look" pic.twitter.com/9WmI17JUhh

— Rashad The Rose Plug (@rashadsays) May 26, 2021
How @MACcosmetics think muslims look like during #suhoor. And how they really look like. #etnomarketing #gonewrong pic.twitter.com/z9qUHMRNIE

— Abdelkarim El-Fassi (@Abdelkarimo) May 25, 2021
British YouTube comedian Nabz Pat has also released a satire video poking fun at the MAC make up tutorial.
#ramadan Wannabe Modest Fashion Blogger 'Nabzy' explains why the @MACcosmetics "Suhoor Look" is genius! For full vid check out: https://t.co/Ao005156Dn #comedy #YouTube pic.twitter.com/BFTDexbQGF

— Nabz Pat (@nabzpat) May 26, 2021
There are a few Muslimahs in support of MAC explaining that suhoor parties do exist in places like Dubai and that is who MAC is targeting. There are suhoor parties that begin as early as 9 p.m. and go on until sunrise, ending in Fajr prayers.
People do dress up in Dubai and congregate after the nightly Taraweeh prayer to spend time with loved ones and eat until sunrise. At times it can be a glamorous event where you may acutally use this glitter filled MAC tutorial.
Many people are complaining about MAC's make up look for suhoor—saying they barely open their eyes when eating in early morning.

In fact, suhoor in Dubai starts at 9 pm and they go to a night out right after.

It's a targeting. Not all ads are about you. pic.twitter.com/3dCBLcNnBT

— 🌻 (@khansaafathima) May 26, 2021
Cosmetic brand @MACcosmetics criticized online for their #Suhoor   (pre-dawn meal) - People ignore or are simply not aware of the fact that the "Suhoor look" is targeted for those who live in the #Gulf where Suhoor is an actual event that some spent in (luxurious) #Ramadan tents. pic.twitter.com/PiHTNYXPh7

— Boutaïna Azzabi Ezzaouia (@Boutaina) May 26, 2021
To provide further insight, last night I was at a #Ramadan tent for #iftar (with my MAC make up on) which goes on to serve these types of #Suhoor buffets.

Ppl like to dress nicely & it's an attractive environment. But there's always a risk the spiritual element is diminished. pic.twitter.com/XtjFOsH9c2

— MariamHakim (@MariamKSHakim) May 27, 2021
Being born and raised in the west I have never celebrated Ramadan in a Muslim nation so I don't have that experience to relate to. While I understand this thought process and the targetted consumerism, this is still a small population to cater to as it is also likely that people of a certain social standing may be in attendance at these lavish events. America has a larger population of Muslims than Dubai and there are over 25 million Muslims in Europe. In some European nations, the fast is close to 18-20 hours long thus suhoor is only a few short hours to eat.
If they had plans of such a specific population to target, the video should not have been open for all to view and allowed only in nations like Dubai where it makes sense. Being such a large international force in the makeup world, an approach to universal aspects of the celebration would have been a better move for the company as well.
Perhaps an explanation of suhoor and how it is celebrated in Dubai to start off the video would have been a better way to translate the cultural differences across nations. They could have also opted to title the video an "Iftar look" instead, as iftar parties are universally celebrated.