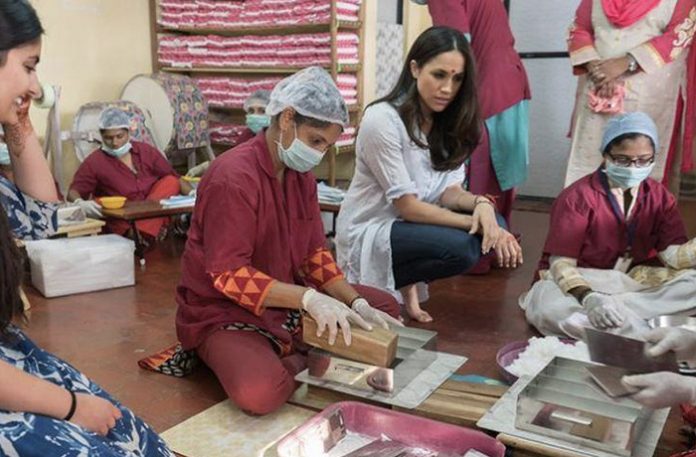 In lieu of gifts, Prince Harry and Meghan Markle are asking for donations to a group of seven nonprofit organizations — including one that provides sanitary pads to girls and women in India.
The Mumbai-based Myna Mahila Foundation is the only charity on Meghan and Harry's list that serves a community outside of the United Kingdom. The group manufactures and distributes affordable sanitary supplies to Mumbai's slums.
"The couple have chosen charities [that] represent a range of issues they are passionate about, including sport for social change, women's empowerment, conservation, the environment, homelessness, HIV and the armed forces," a Kensington Palace spokesperson said in a statement. The statement also noted that the couple did not have a formal relationship with any of the nonprofits they had chosen.
Next up is @MynaMahila, which empowers women in Mumbai's slums by providing them with a trusted network, stable employment & the chance to grow as individuals & businesswomen, and breaks taboos around menstrual hygiene. https://t.co/suzul1y9cw pic.twitter.com/eIG3GP6bW7

— Kensington Palace (@KensingtonRoyal) April 9, 2021
Founded by Suhani Jalota while she was still a student at Duke University, the Myna Mahila Foundation employs women from the slums to manufacture and sell pads to their communities. According to the foundation's website, the organization currently provides 10,000 women with period supplies each month.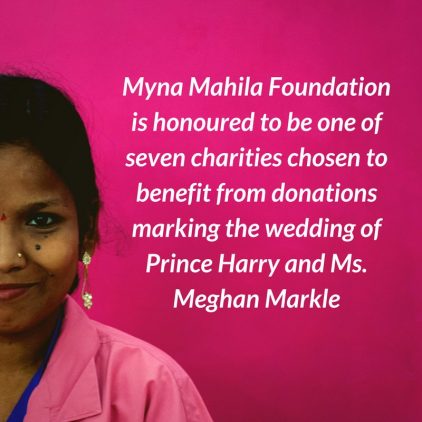 The Myna Mahila Foundation first came onto the future duchess's radar in 2016, when Meghan was at an event honoring the candidates for Glamour Woman of the Year. It was there that she first heard Julota, the organization's founder, talk about her work and the women the foundation served. Meghan was said to be instantly intrigued.
Meghan has long been interested in women's health and ending the stigmas that surround menstruation. As we noted earlier this month, the future duchess spent much of her 2017 trip to India talking with women about what can be done to get menstrual health supplies to slums and how to prevent girls from missing school during their periods. During that trip, she also had the chance to visit the foundation's factory during her trip.
In a statement posted on its website, the nonprofit expressed its gratitude towards the soon-to-be newlyweds. "Myna Mahila Foundation is honored to be one of seven charities chosen to benefit from donations marking the wedding of Prince Harry and Ms. Meghan Markle," the simple message read.