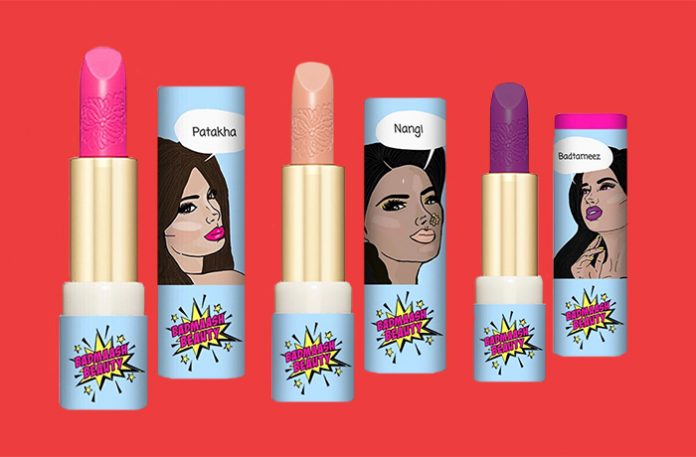 By Anvita Reddy 
South Asians have continuously broken glass ceilings in the beauty world, from booking coveted campaigns to becoming some of the most well-known influencers and makeup artists.
Farah Dukhai, Deepica Mutyala, Nabela Noor, Sharifa Easmin are only few of the many, many influencers and makeup artists of South Asian descent who are carving their own niche in this industry, in turn opening up more doors for us.
In fact, there are multiple brands and products in the market that are created by South Asians. Here are 13 makeup and cosmetics brands you should know about.
Badmaash Beauty
Created by influencers Maryam I. Shah and Beena Alvi, Badmaash Beauty just launched earlier this year in April. They aim to defy stereotypes of what women should be and embrace and reclaim being "badmaashi". This is evident in the names of their products, which are sassy af.
Stellar Beauty
Created by Monika Deol, Stellar Beauty was created for those with South Asian skin tones in mind with the majority of products made for our skin tones and problems. Stellar Beauty can also be found and purchased at Sephora.
Wander Beauty
Co-founded by Divya Gugnani, Wander Beauty was made for the travelers and busy multi-tasker. Their beauty brand is all about products that can be used multiple ways and are travel friendly. Their bite-sized lipsticks are a must-have.
Vasanti Cosmetics
Created by Pinki Gosal, Monal Patel, Priti Patel and Gargi Patel, Vasanti Cosmetics was created on the bonds of sisterhood in 1998. Vasanti, meaning 'of spring' in sanskrit, aims to create light and breezy beauty and skincare products that suit the South Asian skin.
Lady Burgundy
Created by Amrita, Lady Burgundy is a blog turned cosmetics brand that specializes in lip products and lashes. Their unique product packaging makes them even more appealing.
Rani Cosmetics
Created by YouTuber Eshani Patel aka TotalMakeupJunkie101, Rani Cosmetics aims to make everyone feel like royalty. Check out the absolutely beautiful designs on the products! Rani Cosmetics launched July 2017 and their collection, currently, consists of lip products.
Saleha Beauty
Created by makeup artist Saleha Abbasi, Saleha Beauty has extremely pigmented and glamorous products. They're obviously perfect for our desi events and functions, so I'd grab them by the numbers.
Hi Wildflower
Created by Tanwi Nandini Islam, Hi Wildflower is an ethically sourced and sustainable beauty brand that uses botanicals and natural ingredients for their products. It makes them stand out in an industry flooded with products that aren't organic or natural.
Faryal Cosmetics
Faryal Cosmetics is created by influencer and wife of boxer Amir Khan, Faryal Makhdoom Khan. She exemplifies her passion for beauty through this brand and her products.  Their liquid highlighter is a total must-have.
Pink Orchid Studios
The South Asian hair and makeup artistry studio, Pink Orchid Studios, has their own line of lashes, lip products as well as eye products and accessories. It's straight from the source, you guys.
Certifeye
Created by Aysha Ali, Certifeye is a beauty brand that houses lashes, gorgeous glitter pigments, beauty tools and brushes, and bold eyeshadow palettes. Just one look at their color palettes and you won't be able to resist.
Eyeris Beauty
Created by Manal Shaikh, Eyeris Beauty is a high quality lash brand that is lightweight and has flexible fit. They can be worn up to 20 times and are cruelty free.
Star Struck by Sunny Leone
Star Struck is Sunny Leone's new cosmetics brand that currently houses lip products such as lipsticks and lip liners. Get that pout on, y'all.
"From being an ex-premed student to creating content for HerCampus and Spoon University, Anvita Reddy is breaking the South Asian norms and pursuing her passions. She is currently pursuing a Masters in Communications and Media and she is the Social Media Coordinator at MannMukti. She can also be found binge watching all things Bollywood and Hollywood. As an avid beauty and fashion junkie, she is often researching skincare on PubMed or at Sephora swatching her heart out. You can find her on Instagram and Twitter."