Battle Grounds Mobile India, or BGMI for short, has started pre-registration for the game on the Google Play Store, and users may apply for pre-registration here. This game serves as a replacement for PUBG in India, which was banned along with numerous other apps during a dispute between the Indian and Chinese governments. BGMI was created, for this reason, however according to sources, BGMI may be prohibited as well. Many players have inquired as to whether or not BGMI has been re-banned.
Why People are Thinking that BGMI will Get Banned Again?
The threat of BGMI being banned arises from a tweet by Ninong Ering, an Arunachal Pradesh MLA. In a tweet, the MLA added that he has asked India's Prime Minister, Narendra Modi, to prohibit the arrival of this "Chinese Deception" BGMI. He went on to say that this game poses a significant threat to India's security and the privacy of its citizens, as well as the fact that it will circumvent and violate the government's laws.
Requested @PMOIndia @narendramodi ji to not allow Chinese deception #BattlegroundsMobileIndia. It is a big threat to security of India & privacy of our citizens and a way to circumvent & disregard our laws.@AmitShah #IndiaBanBattlegrounds #NationFirst #AatmaNirbharBharat @ANI pic.twitter.com/H8nzUJ4aRk

— Ninong Ering ?? (@ninong_erring) May 22, 2021
The game hasn't been banned yet, and pre-registration is available on the Google Playstore. Players would simply have to wait and see what the Indian government has planned for BGMI.
Is BGMI Sending User Data to a Chinese Server?
According to a new claim, data from the BGMI is being sent to servers in Beijing, China. The data is transferred to Tencent's Proxima Beta in Hong Kong, as well as Microsoft Azure servers in the United States, Mumbai, and Moscow, according to IGN India.

Using a data packet sniffer tool, the magazine claims to have double-checked the material from its sources. China Mobile Communications Corporation in Beijing was revealed to be in charge of one of the servers. QCloud and AntiCheat Expert are two other Tencent servers that have been uncovered.
Data from the user's device was also included in the data sent to China. According to Krafton's new Battlegrounds Mobile India terms of service, players' personal information would be stored and processed on Indian servers.
The updated conditions, on the other hand, state that the company may "transfer your data to other countries" to comply with "legal requirements." PUBG Mobile was banned in India last year due to data security concerns.
Krafton indicated at the time that it is working closely with Indian authorities to ensure that local legislation is followed. It also announced that to relaunch the game, it had cut ties with Tencent in India. The new findings may cause concern for Krafton.
However, some people are suggesting that the connection to Chinese servers or IP Addresses establishes only when a user opts for migrating the old Pubg mobile data to  BGMI. Well, if this is the case, then it might not be a big concern for the team.
Is BGMI Really Getting Banned Again?
Well, the IGN article was released on the internet a few days ago, and since then, there has been no official announcement from the Indian government. Will BGMI be banned in India once more? Is there a ban on PUBG Mobile in India?
For now, BGMI has been successfully testing their game on Indian android users up to this point. Also, BGMI published a Press Release on its social channel about how they are trying to comply with all the policies of the Indian Government.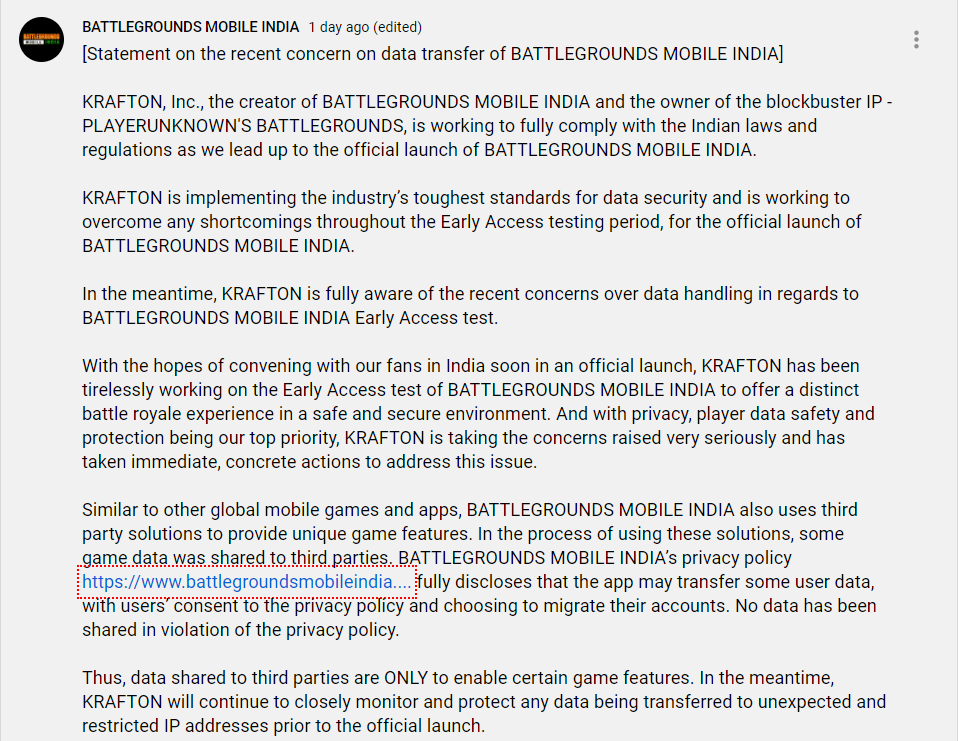 As far as we can understand, the game will not be banned. For now, they seem to be following everything and all the news regarding BGMI Ban are just rumors.
Final Take
PUBG Mobile was banned in India last year due to data security concerns. Krafton indicated at the time that it is working closely with the Indian authorities to ensure compliance with local regulations. It also revealed that it had cut connections with Tencent in India to restart the game. The new report may be cause for alarm for Krafton.
This comes after several Indian MPs urged for the ban of the PUBG Mobile version. The Confederation of All India Traders (CAIT) has written to the Minister of Electronics and Information Technology (MeitY), alleging that the BGMI is a security risk for Indians.
That's the only information we have as of yet regarding the ban since the data breach was reported just a few days ago. Any official statement has yet to be made by the makers of the game, Krafton, and the Indian Government on the issue. To get the latest update on the development related to the BGMI controversy, stay tuned, and please don't forget to share the article. See you next time. Till then, stay safe and stay hydrated.