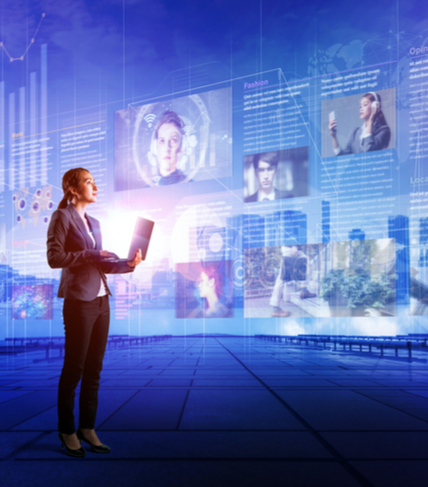 We're in the midst of a great political turmoil. There is no denying this. The United States of America is truly undergoing some tremendous changes ever since the 2016 elections. Especially for us, South Asians living in the U.S., it has been an even larger battle much like thousands of immigrants who call this country home.
In the last few months, besides the Donald Trump-related messes, there have been so many social issues plaguing this nation. In a time like this, if you're worried or wondering who speaks up for us, look no further. These are just a few of the many South Asian-American journalists and media personalities who are representing us.
1. Amna Nawaz
ANALYSIS: Why Trump's remarks about times 'changing back' are troubling - ABC News https://t.co/xJcvrMGert

— amna (@Nawazistan) October 13, 2020
Currently: Anchor/Reporter, ABC News
One of the most well-known faces in journalism, Nawaz has made a noteworthy career for herself.  The Pakistani-American reporter initially wanted to be a lawyer. When she got a fellowship at ABC News, three weeks before 9/11, she changed her mind. She threw herself into reporting this terrifying attack and very early on, she developed the love for this. It's evitable in her impressive career trajectory. Her work includes being a Nightline Fellow at ABC, Bureau Chief from Islamabad at NBC News. She's won the Emmy Award for writing "Inside the Obama White House" in 2010. Nawaz said her parents are her biggest influence. Her father was a journalist in Pakistan. While covering 9/11, she said that she wanted to find solace by searching for answers the world was asking about her faith and religion. In 2013, she became the first foreign journalist to be allowed inside North Waziristan, bordering Pakistan and Afghanistan.
2. S. Mitra Kalita
I wanted to know if a white nationalist would small-talk me on the plane. So I asked someone who'd know https://t.co/bEC2A32O4e

— S. Mitra Kalita (@mitrakalita) August 18, 2020
Current: Vice President for Programming, CNN
Kalita started as an intern for The Wall Street Journal in 1997 and there has been no looking back. From one big publication to another, she is a force of nature. She's worked with reputed media houses like Associated Press, The Washington Post, The Wall Street Journal, and Quartz. Beyond her list of excellent work accomplishments, Kalita has also served as president of the South Asian Journalists Association (SAJA). Born in Brooklyn and having traveled and lived in Puerto Rico, Assam, and more, she speaks seven languages. Kalita has taught her skills and knowledge about journalism in various universities including St. John's, UMass-Amherst, and her alma mater Columbia Journalism School. She's the author of book "Suburban Sahibs," chronicling immigration in suburbia.
3. Sree Srinivasan
Always a thrill to return to @columbiajourn's iconic Joseph Pulitzer World Room #alumniwknd17 pic.twitter.com/NJRCdTGxxV

— sree sreenivasan (@sree) April 29, 2021
Current: Chief Digital Officer, NYC.gov
Srinivasan's current job is definitely worth craving for and it's been one he's holding since August 2016, before which he was Chief Digital Officer at the Metropolitan Museum of Arts. His other impressive career credits include stints with The New York Times, Poynter Institute, WABC TV, and WNBC TV. His father was a diplomat for the Indian government, which meant he traveled a lot as a child. Born in Tokyo, he has studied in Delhi, New York City, and Fiji. He's been on board as faculty at his alma mater, Columbia University, since 1993. He was a professor who excelled in teaching new media and digital journalism as it was the on the cusp of becoming big. He then became dean of students. He's the co-founder and past president of SAJA, consisting of over 1000 South Asian-American journalists
4. Wajahat Ali
All of Trump's domestic policies will only hurt his base, but many of them prefer self immolation to expanding the American dream for all.

— Wajahat Ali (@WajahatAli) October 13, 2020
Current: Creative Director at Affinis Lab and Contributor at Huffington Post
Ali's work can be found in The New York Times, The Guardian, The Washington Post, Salon, The Atlantic, National Correspondent, and Al Jazeera America. He was a consultant for the U.S. Department of State and he worked as a researcher and writer for The Center for American Progress (CAP), a public policy think tank. Even though he's from Fremont, California, Ali has first-hand experience living life in America as the "outsider." He attended a Catholic school and, according to him, became the poster boy for all things Muslim. Ali always embraced his faith and has been proud of this fact. This is evident in his work as the playwright for "The Domestic Crusaders," one of the first major productions based on the Muslim-American life, focusing on an immigrant Pakistani family and their experiences in the U.S. It was well-received and had a historic off-Broadway run in 2009.
5. Shefali Kulkarni
You say travel ban I say Muslim ban Let's call the whole thing off.https://t.co/7PAWt4kgqI

— Shefali S. Kulkarni (@shefalikulkarni) October 18, 2020
Current: Audience Engagement Producer at BBC News
Kulkarni's list of publications is interesting not only because her work can be found in Newsweek, Public Radio International, The Daily Beast, and Village Voice, but also because of her health writing. She was the multimedia reporter for Kaiser Health News and produced the video story  "An Osteopathic Physician At Work In Rural Maryland," about Doctors of Osteopathic Medicine (DO's) and their role in rural healthcare, which was featured in The Washington Post. She's served as the Vice President of SAJA and is an active member of the South Asian-American community, helping shape conversations about our diaspora.
6. Sonia Saraiya
New from me: We are going to have to understand the Harvey Weinsteins of the world if we are to eradicate them. https://t.co/vHP0iYvkFI

— sonia saraiya (@soniasaraiya) October 23, 2020
Current: TV Critic at Variety
The thing with being an entertainment writer is that sometimes you may not be taken seriously. Saraiya is here to bust that myth. She's worked with the Salon Media Group, The AV Club, Slam Industries, news.me. Her writing is an in-depth analysis of what's working with television right now and how it impacts the larger picture aka the world we're living in now. Her work goes beyond just that, though. She was the Interim Legislative Aide for Senator Karen Spilka for the Commonwealth of Massachusetts and the Policy and Press intern at Citizens for Alan Khazei.
7. Sharaf Mowjood
Everyone should be googling South Asian Youth Action now. #EmmyAwards2017 congrats @rizmc!!!

— Sharaf Mowjood (@Mowjood) September 18, 2020
Current: Producer for CBS Evening News
Mowjood's work as a producer has been impactful because usually when you watch the news, you rarely think of all the action that goes behind the scenes. He's been on the field for a long time before his gig with CBS, working with Huffington Post and NBC, where he covered the Presidential Campaign and worked with Brian Williams. His freelance writing can be read in The New York Times and The Washinton Post.
He has also worked with NBC's Ann Curry for an exclusive interview with Iranian President Hasan Rouhami. He was the president of SAJA in 2010.
8. Anup Kaphle
Stephen Bannon Haunts Tillerson From Beyond The White House https://t.co/9vk5rLuZbT — By @John_Hudson

— Anup Kaphle (@AnupKaphle) October 24, 2020
Current: Deputy Foreign Editor at Buzzfeed 
Kaphle's excellent journalistic work began with The Himalayan Times in Nepal and has since only grown with institutions like The Washington Post, The Atlantic, Forbes, Newsweek and now, of course, the most viral of them all: Buzzfeed. Being a foreign editor entails not only covering the political turmoil in the U.S. but also in parts of the world that need far more visibility like Nepal, Kenya, and more.
In 2012, he was awarded the Eugene Meyer Award for his reporting from Iraq and Afghanistan. He also earned the SAJA Reporting Fellowship in 2009 for covering the war in Afghanistan