An image showcasing a Ukrainian soldier became viral amid the Russia-Ukraine war. Users falsely claimed that it is Olena Zelenska, wife of Ukrainian President Volodymyr Zelensky. Well, it's not her!
Ukraine…🇺🇦❤️❤️
The president. The first lady.#NATO Russia pic.twitter.com/gfphC8zMEz

— Buju's shadow 🕵🏾‍♂️ (@brightinDarkk) February 26, 2022
In reality, this image was taken on Ukraine's Independence Day in 2021. Volodymyr's wife Olena is more than just a first lady. Let's get to know her closely.
Who is Olena Zelenska?
Olena Zelenska made it to  "The Most Influential People of Ukraine" list in the year 2019 after she became the first lady of Ukraine. Apart from this, she is a screenwriter and an architect. She studied architecture at the Faculty of Civil Engineering at Kryvyi Rih National University.
Olena Zelenska started writing texts for Kvartal 95 instead and became a writer, and also appeared in the November edition of Vogue magazine where she spoke about her first initiative "Nutrition Reforms in Ukrainian Schools".
Olena's writing career
The first lady of Ukraine is one of the founders of 'Studio Kvartal 95'. It is one of the largest producers of show projects, entertaining programs, films and serials in Ukraine. Olena also became part of a separate author's group and wrote for Studi Kvartal 95.
This group worked on the concept of the "Liga Smichu" program, interestingly, one of the most humorous projects in Ukraine.
As a screenwriter, the 44-year-old vibrant lady wrote the comedy film "How the Cossacks…" (2009) and is also the producer of the project "Women's Kvartal Social initiatives".
The first lady's Initiatives
Olena Zelenska is well-known for her active role in social work and Ukraine's overall transformation. She initiated Ukraine's accession to the G7 International initiative on Gender Equality via the Biarritz Partnership (Biarritz is a city in France). Ukraine is now the official member of Biarritz that establish equal rights and opportunities for men and women.
The President of Ukraine and her husband, Volodymyr Zelensky, included Olena on the board of the 'Art Arsenal' head by the 'Ministry of Culture Volodynyr Borodiansky'. She also initiated conversations with Ukrainians about being barrier-free, making it a priority at the state level. Olena and 'UNICEF in Ukraine' signed an MOU in June 2020.
As a result, the Ministry of Digital Transformation and UNDP created a convenient catalog of services for vulnerable groups under her "WIthout Barriers" initiative.
In the same year, Olena started her efforts to propagate the Ukrainian language on a global scale She introduced 11 audio guides in some of the most famous museums of Azerbaijan, Austria, Latvia, Montenegro, Turkey, and in two bus routes of Lithuania. Interestingly Olena also presented these guides to the museum of "Mount Vernon" (home of the first U.S. President) and the "Fine Arts Museums of San Franciso" (California).
Olena was recognized once again for speaking at the 'Fourth Ukrainian Women's Congress', aimed at bringing together Ukrainian and international public figures, politicians, officials, experts, and opinion leaders. The platform reflects thoughts on equal rights for men and women.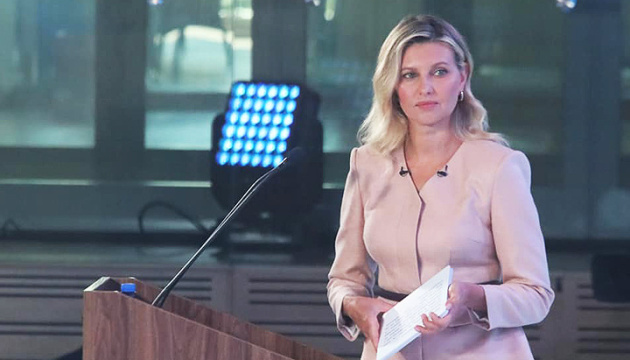 Olena didn't stop here! She initiated the signing of a declaration between Ukrainian and international companies to remove business barriers and bring in barrier-free trading. This step has had a positive impact on Ukrainian's economy.
Olena's achievements in 2021
Olena initiated the creation of the "Barrier-Free Council" in April 2021. At the first meeting held in June 2021, she said, "Barrier-free environment becomes a new social norm. The changes initiated by the Council of Barrier-Free Environment concern not only people who have to face various barriers in their lives. These changes are primarily about what kind of country we aspire to be. A country where everyone has equal rights and opportunities. A country without barriers."
She initiated the Kyiv Summit of First Ladies and Gentlemen in August 2021, and the theme for the first summit was "Soft power in new reality". This event is aimed at creating international dialogue to help solve existing humanitarian problems across the globe.
Olena is a strong speaker just like her husband, even better I believe. She has tirelessly worked for making Ukraine a better place and continues to do so amid these troubled times in Ukraine.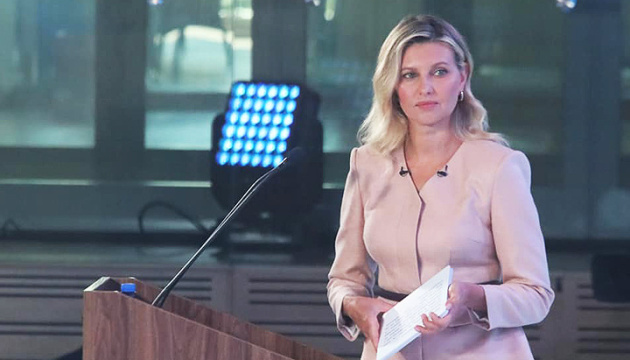 What does Olena say about war?
Olena Zelenska is staying put with her husband as he continues to give hope to the people of Ukraine. She has left no stone unturned in pacifying the Ukrainian people. In a recent Instagram post, she wrote, "My dear people! Ukrainians! I'm looking at you all today. Everyone I see on TV, on the streets, on the Internet. I see your posts and videos. And you know what? You are incredible! I am proud to live with you in the same country!"
In another post on war, she wrote, "This child was born in the Kyiv bomb shelter. This was to take place in completely different conditions, under peaceful skies. It is what children should see… We are the army, the army is us. And children born in bomb shelters will live in a peaceful country that has defended itself."
Isn't she amazing? Check out her Instagram to know all about her contributions.
Let's pray for Ukraine together as it continues to fight against the Russian attacks.