Mark Hoppus, the widely popular Blink-182 vocalist and bassist announced via his Twitter that he been diagnosed with Cancer. The 49-year old California resident has been undergoing chemotherapy for the past three months.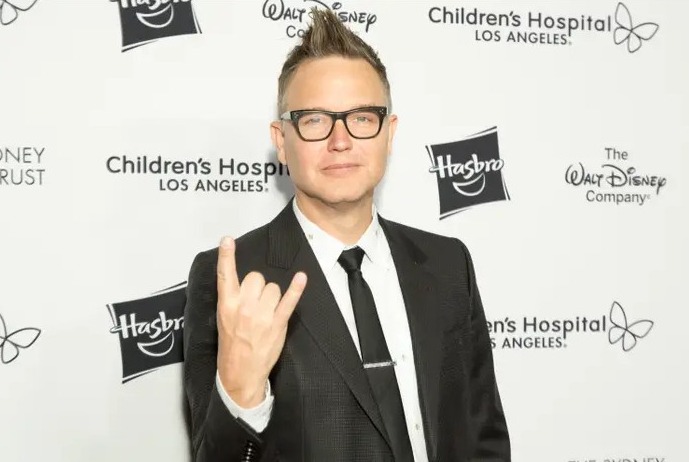 Mark wrote a heartbreaking message via his Twitter that states: "I have cancer. It sucks and I'm scared, and at the same time I'm blessed with incredible doctors and family and friends to get me through this." He also added that: "I still have months of treatment ahead of me but I'm trying to remain hopeful and positive," he went on. "Can't wait to be cancer free and see you all at a concert in the near future."
— ϻ?Ⓡ? ??Ƥ?ย? (@markhoppus) June 23, 2021
He also posted a picture on his Instagram story of him in Hospital with a caption saying: "Yes hello. One cancer treatment, please." However, he did not reveal which form of cancer he has.
Mark's old bandmates Travis Barker (Drummer) and Tom Delonge (Guitarist) have shown love and sympathy via heartfelt social media posts. Travis wrote that:
"Mark is my brother and I love and support him," Travis said.
"I will be with him every step of the way on stage and off," he added, "and can't wait for us to play together again soon."
He has also shared an old photo with Mark on his Instagram story, writing simply: "Love you @markhoppus."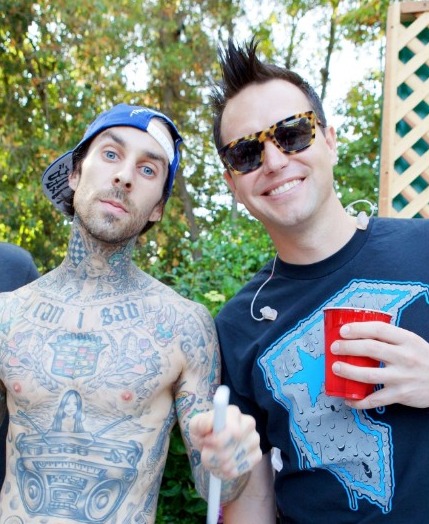 While Tom tweeted a long warming message in which he called his former bandmate "a super-human who is pushing through this difficult obstacle with a wide-open heart."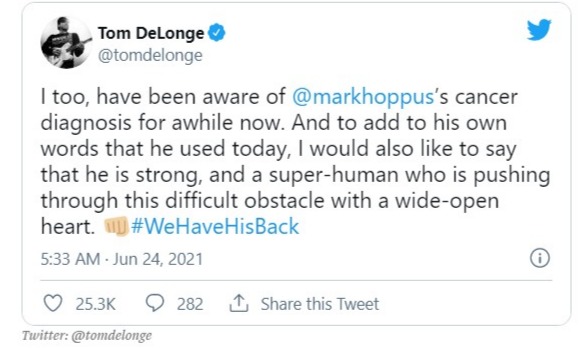 Many other celebs including Wolfgang Van Halen, Alex Gaskarth, and B.J. Novak have also show and lead support for Mark.
The History of Mark and his Bandmates of Blink-182 dates back to the mid-1990s:
Mark Hoppus formed Blink-182 with Tom DeLonge as the vocalist-guitarist and Scott Rayner as the drummer in August 1992. They released the debut album "Cheshire Cat" in 1995. Afterward, Scott left the band and Travis Barker replaced him as the drummer. The new combo released "Enema of the State" in 1999 which was a massive pop-punk hit.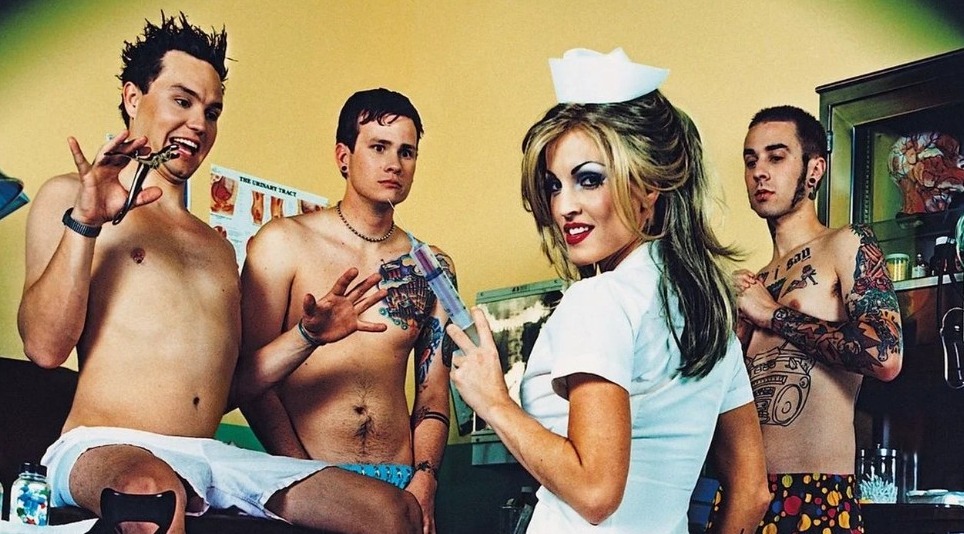 It featured landmark singles like "What's My Age Again?" and the "All the Small Things." Blink-182 released five more albums after that and all of them proved to big hits, reaching the US Top charts.
Mark had also launched a new project named "Simple Creatures" with Alex Gaskarth from the band "All Time Low." In an interview, Mark had also revealed that this project helped him come out of a really terrible depression.
Ever since the heartbreaking announcements, the fans have poured Twitter with #GetWellSoonMarkHoppus messages. We also wish him the same for the months of treatment he is about to undergo.