The 38-year-old Loni Willison looks unrecognizable in her latest picture as she rummages through trash cans for food.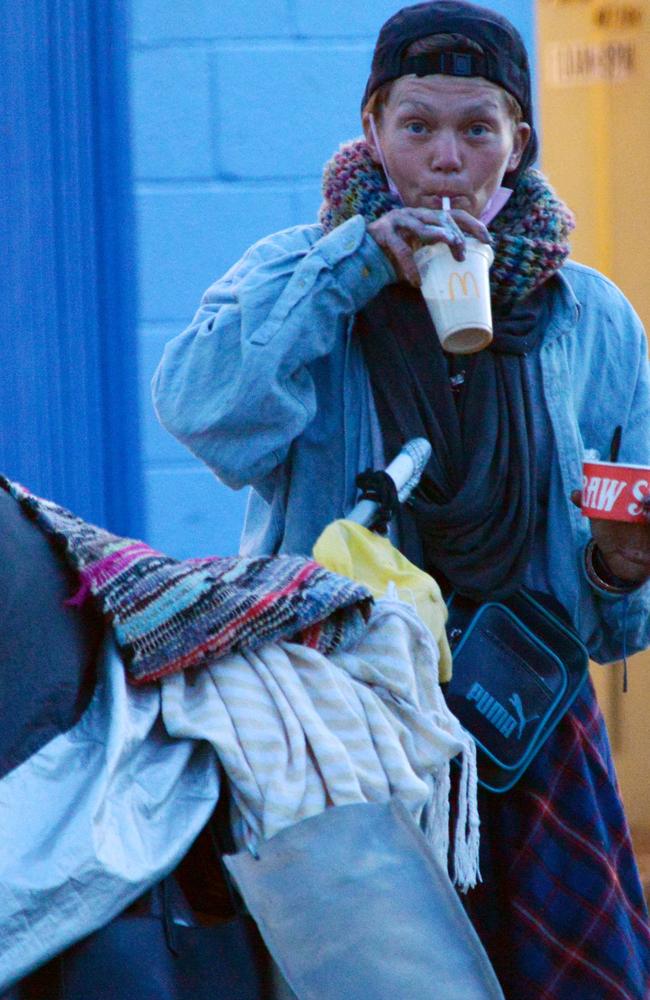 The former model and wife of Jeremy Willison, who's homeless now, was once again spotted in Los Angeles. In these heartbreaking photographs, she was seen barefoot on the streets, pushing a shopping cart with her hands. The cart seems to be filled with personal items picked up from the trash.
She was wearing an oversized denim shirt with black jeggings while wrapping an old green scarf around her neck. The former swimsuit model was spotted smoking a cigarette and carried a black color cap on her head, but no shoes on. While strolling her cart, she often stopped by the dumpster to look inside and kept piling scrapes on her cart.
Who is Loni Willison?
Loni Willison is a former American fitness model. Loni was born on the 21st of May, 1983 in California. She appeared in multiple swimsuit advertisements. Before it, the model was working as an assistant in a cosmetic surgery center in Los Angeles. Before her disappearance, Loni's net worth was around $1.6 Million.
She's the Ex-wife of "Baywatch" star, Jeremy Jackson. The pair tied the knot in 2012 and divorced after spending two years together in 2014. She is now said to be living a homeless life (since 2016).
Reason behind divorce
In the year 2014, Jeremy Jackson attempted to murder her former wife, Loni Willison at their West Hollywood home. Jeremy forcefully strangled her and as a result, she sustained various injuries to her neck, face, and body. She also had two broken ribs.
Furthermore, after filing for divorce, the model suffered from mental health issues and turned to drugs, and has battled addictions to both meth and alcohol. Unfortunately, soon after that Loni ended up losing her job, apartment, and car, leaving her completely homeless.
In 2018, one of her friends tried to send her to a rehab center, but she ran away and disappeared into thin air.
Her "first homeless" appearance
The model popped up again for the first time in October 2020 and was revealed to be living as a homeless person in the streets of Venice Beach.
In an interview with The Sun in 2021, she denied that neither drugs nor her "celebrity life" were the cause of her being homeless. Loni rather blamed some really "bad people," who did this to her. She told the magazine that she is stuck and there is not much anyone can help her with.
She revealed about her hobo lifestyle and said, "I got electrocuted before I became homeless for nine months solid, every f**king day and so I can't stay in one spot. I can't live in a building. I can't live in a home. I can't live anywhere because I have to move around constantly."
Loni Willison is neither in touch with her former husband, Jeremy Jackson nor her friends. The former swimsuit model wishes to continue living her life alone in the street.