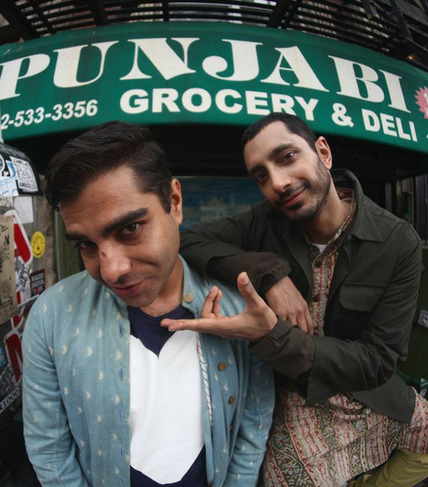 The genre of urban desi music has grown into a popular niche field with influencers at an international level. Pop artists who croon and produce Bollywood covers get a ton of fanfare but the urban desi genre has some amazing rappers that you definitely need to familiarize yourself with.
These South Asians are killing the game with their lyrical flow, rapping talents, and taking the hip-hop scene to a whole new level with their blend of Eastern and Western music.
Check out these 14 hip-hop urban desi artists outside of India and the Bollywood scene you need to know!
1. Bohemia
We've got to start with the king! Bohemia, the Pakistani-American rapper who is credited with the start of the desi hip-hop genre, is still one of the most talented artists. He still creates amazing music and continues to inspire artists not only with this music but also his actions as he urges young artists to not get caught up in the "gangster" lifestyle and focus on the real message of music.
 2. Metz and Trix
This dynamic duo put urban desi music on the map with their work. Spanning almost 2 decades, these artists are pioneers in the MC/Bhangra fusion genre, starting their careers in the underground garage scene and working their way up to mainstream music in the United Kingdom. They have been a part of the urban music history, from the digital launch of BBC Asian Network to winning Best MC's at the first internationally televised U.K. AMA's. Let's not forget the numerous charities they have been a part of. Who could forget their track "Aja Mahi?" Akshay Kumar even performed it with them in 2007 when the IIFA awards hit the UK for the first time.
3. Swet Shop Boys
The Swet Shop Boys consists of British actor Riz Ahmed, American rapper and former Das Racist member Heems, and British producer, songwriter, and vocalist Redinho. These talented artists create some barrier breaking music, hitting on controversial topics and spreading positivity.
4. Tigerstyle
Tigerstyle is a duo that brought about the folk-hip-hop genre with the blend of their rich Sikh heritage and modern hip-hop, R&B and pop. Pops and Raj make up this talented act from Scotland.
5. Raja Kumari
Raja Kumari is the rising female hip-hop artist who is going to blow you away with her lyrical skills. She is phenomenal and such an inspiration for desi girls everywhere. She's written for big names in the Western world while touring with the likes of A. R. Rahman. She is literally rocking both sides of the world with her music.
6. Raxstar
Raxstar is a British-Asian rapper who has slowly taken over the world with his music. Starting from a small town in the U.K. to the corners of India, his fans are based all over the world! What more could one want? Raxstar is a true urban desi hip-hop artist who effortlessly blends his Punjabi heritage with his music. His songwriting skills are unparallel as they lovingly tell you a story of life and struggle.
7. Anik Khan
Here's one upcoming artist you definitely want on your radar. From the streets of New York City to stages across the country, Khan has blown away listeners with his lyrical genius. From humble beginnings, Khan is an artist fans relate to well and love so dearly. He is definitely building his empire and making the Bengali community in North America proud!
8. Kaly
Kaly is an American rapper who has worked with everyone from Raxstar to A. R. Rahman. His music is also feared in Marvel's upcoming superhero movie, "Black Panther." He has a unique voice, which makes his music standout. His signature style is to blend stunning melodies with harsh lyrics, making the contrast in his music extremely intoxicating.
9. Swami Baracus
British-Asian rapper Swami Baracus, also known as "The Barracuda," has been around for quite some time now, making waves in the British music scene. He's an award-winning rapper that brings together a whole lot of old school hip-hop flavor to his music.
10. Hard Kaur
Hard Kaur is a Bollywood hit-maker. She started her career in the Sona Family from the U.K., rocking the urban desi scene in England. She was one of the few strong female artists in the desi hip-hop music scene. She went on to do her own thing, took over Bollywood and recently released a mixtape featuring many underground desi hip-hop artists from around the world like IKKA, Tigerstyle, Illa Straight, Swami Baracus, beatboxer MC Zani and more.
11. Humble The Poet
Canadian artist Humble The Poet is known for his eloquence and his positive messages. He's not only a rapper but also a writer, vlogger, spoken word poet, and social media influencer with some killer fashion skills. He's literally the jack of all trades! This former elementary school teacher is rocking the world.
12. Shizzio
Shizzio is a British-Asian rapper who has left his mark on the British music scene even though he's still up and coming in the U.S. He's done it all! From hosting his own talk show on Brit Asia TV to being the first South Asian rapper to give a TED talk! He is also a big part of the "Burban" music movement that began in England to unite the urban desi artists in this niche field from around the world. The term "Burban" comes from "Brown Urban."
13. TaZzZ
TaZzZ is a talented music producer, writer, and rapper who is a true urban desi artist with his Bollywood-infused tracks. Like Kaly, TaZzZ blends the harsh world of rap with the delicate beauty of eastern music, especially Bollywood tracks, to create magic. His lyrics always tell a story and he uses the struggles of his own life, which makes his work even more personal. From tributes to his mother to celebrating his Pakistani heritage, TaZzZ's music will always hit you in the feels.
14. Illa Straight
Illa Straight is another newbie on this list of legends. The Chicago born artist has lived in many different places so he is not only heavily influenced by his Indian roots, but feels the responsibility to represent all the diverse people who have helped him become the man he is today. He's already opened for artists like Flo Rida and Akon.