Actor Ranveer Singh burst onto the big screen with the mega hit "Band Baaja Baaraat" with his lovely co-star Anushka Sharma. Both actors have since built quite a fabulous fan following and improved their skills since their first film. With his launch into stardom in 2010, can you believe it has only been about seven years since Singh's entry into Bollywood?
Singh has received numerous awards, praise, and love from fans for his spectacular work thus far. Always humble and hilarious, he is an actor that fans love because he is so relatable. Due to our immense love for the actor, let's count down the many reasons why everyone falls in love with Ranveer Singh!
Why we love Ranveer Singh:
1. That Bod Doe
In today's time, it seems that everyone and their father needs to have 6-pack abs to make it in Bollywood. But hey, who's complaining?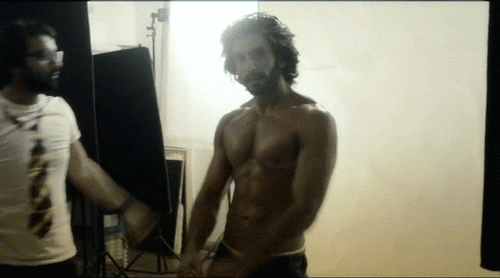 Singh has that mischevious face, matched with innocent eyes and a gorgeous body—how can any girl not love him and how could guys not want to be him! The "Bajirao Mastani" actor has changed up his appearance numerous times from gaining weight to changing his facial hair to play various roles. Yet each time he still looks amazing.
2. Award-Winning Skills
In his short time in the industry, Singh has managed to garner numerous awards including Filmfare, IIFA, Guild and Zee Cine Awards for Best Male Debut in "Band Baaja Baaraat." More recently, he's won the Filmfare, IIFA, and TOIFA Awards for Best Male Actor for the recent release, "Bajirao Mastani."
"Bajirao Mastani" took home 7 National Awards as well. Singh has been producing hit after hit and it is no surprise that critics are taking notice to the talented actor.
3. He's a Good Friend
The media has always picked up on feuds and disputes between actors and actresses, whether it's big or small—but we don't seem to hear that type of news regarding Singh. He has an easy camaraderie with all of his co-stars and has developed close friendships with them all—even his ex-girlfriend Anushka Sharma.
Whether it is his "sister" Priyanka Chopra, his "Sweeta" Parineeti Chopra, his "Tiger" dad and idol Anil Kapoor or his "bae" Zoya Akhtar—Singh has a beautiful relationship with them all. He's managed to create a loving family of his own within the industry.
4. Nutella and Coffee are Life
Singh seems to run on Nutella and coffee—seeing this guy's energy, this doesn't surprise us. Maybe the key to his success is his love of Nutella and coffee?
Sometimes big stars have some strange preferences, it's nice to know that Singh is just like the average guy.
P.S. Nutella is life.
5. Singh is a Riot!
Whether he's picking up challenges from an industry colleague or just bored at home, this guy is absolutely hilarious. Singh is very creative and it is amazing to see just how he uses all of that energy to produce something crazy. Check out this hilarious DubSmash spoof he made as Pakistani singer Taher Shah.
6. Those Abs Aren't Just for Show
Singh is so fun loving and not only can he throw a punch but he can take it—have you seen the AIB Roast? Arjun Kapoor and Singh get burned to a crisp on the comedy roast but they still laugh it off and enjoy the show—that is the sign of a down to earth and a seriously cool guy.

7. Bromance with Arjun Kapoor
But really, how could we NOT mention his bromance with Arjun Kapoor?


These two brothers-from-different-mothers have bonded so well. Both stars are talented actors with such humble, fun-loving and relatable personalities fans have fallen in love with them instantly. Kapoor and Singh are so laid back and cool, the type of guys you want to be best friends with.
8. DeepVeer FOR LIFE!
Ranveer Singh and his lady love, Deepika Padukone are the most beautiful couple we have seen. Not only do they look sizzling hot photographed with each other, the duo has an unmatched chemistry on screen and such a sweet love off screen. While Padukone is quite shy about her love life, Singh makes it known how much his girlfriend means to him. The two are always supportive of each other and do not shy away from taking a stand.
Can you say couple goals?
9. Singh Genuinely Loves his Fans
Singh holds Facebook chats to connect with his fans and he really does read all of his messages on social media! Singh loves his fans so much he'll recognize certain followers who message him regularly and even notice when their profile pictures have changed!
He'll give fans shout outs, sing for them and more. Singh is such a kind star that even if you don't like his acting, you'd fall in love with him as a human being.
10. He Fangirls just like us!
As a newbie in the industry, Singh is still just as excited to meet Bollywood big-wigs like Shah Rukh Khan and Amitabh Bachchan just like the rest of us. How adorable is he!
He's just a normal guy living that fabulous life.