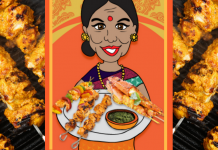 Grilling season where I grew up in Nashville, Tennessee heralded a time of robust pieces of meat in sweet and kicky barbecue sauce on...
Sunday, February 4, 2018 marks the 52nd Super Bowl with the Philadelphia Eagles up against the New England Patriots! Who'll win is yet to be...
Cauliflower rice is no longer a new phenomena. It has taken over the internet now for the last couple of years, with recipes coming...
Aside from being desi's beloved cola of choice, did you know you could cook with Thums Up as well? The sweet and subtly spicy...
Thums Up is one of the leading colas consumed in India. Chances are, you are accustomed to enjoying this beverage as a cold, refreshing...
Basic B*tch Dip and Salsa Recipes Revamped
We have some recipes here that will surely deviate from the same old salsa and guac served at summer soirees. Packed with tons of...
Indian meals often have delicious accompaniments such as ghee, dahi,  kandi podi, and achaar to further lend flavor to subjis, dals, and flatbreads. They...