Maira, the child at the center of Arpita Kumar's new short film "Our Time," experiences a series of revelations as her story unfolds. While she knows that her mother wants to spend quality time with her, she is much more interested in taking photos and playing games on her phone. Meanwhile, her mother is a social media star in her own right and provides her friends and family with a steady stream of photos and videos, updating them on their seemingly picture-perfect lives.
All of that changes when Maira unwittingly stumbles on something on her mother's phone that changes the way that she thinks of both of her parents. "Our Time" is currently screening as part of the 2018 PBS Online Film Festival, which is running through July 27.
We had the chance to chat with Kumar about "Our Time," the impact of social media and what she learned about children today.
The Teal Mango: How did the story for "Our Time" come about? It's a short film but viewers feel almost every emotion throughout.
Arpita Kumar: Thank you so much. I was really fascinated by how kids now have always been online, unlike us. I remember a time there was no internet. I remember a time when there was first dial-up and then it came and we'd all wait and sit and get on the internet.
But I was watching my niece and my nephews and how their relationship with technology was so different from mine. They've had iPads since practically the time they were born, it was like an extension of their body.
Our generation is also so invested in building their images through social media. We spend so much time building our image and curating our life through social media. The image that we we build is sort of a half-truth compared to our real life, so I was also fascinated by that. What would happen if some of that got exposed? What vulnerabilities would that expose?
TTM: How did that come through when you were working on the script?
AK: The script came about through a mother who is obsessed with her image, she's constantly curating her life on social media and sending these blogs and sending these videos to her parents about how amazing her daughter is. But, you know, while making those videos something horrible about her marriage gets recorded that she would never have shared with anyone, but her daughter has access to all of this. So the truth of the family gets revealed through this.
It was really fascinating for me because the child actor that we used, Aurea Jolly, she was exactly like this. After the shoot I remember we were wrapping up and she got on her iPad and she started playing this game — I forget what it was — with her uncle in India. So they were both like, her uncle was in India and she was sitting here and they were playing a game together. And the way her hands were moving, she could multitask and respond to her mother and have her dinner and everything. I was just like, 'oh my god, this is exactly what I am talking about.'
TTM: You mentioned Aurea Jolly, who plays the daughter Maira in your film. She was just so good because there is not a lot of dialogue in this film, but she's very expressive. Had you worked with child actors before?
AK: I had worked with child actors before. I went to CalArts and for my thesis film I had worked with a child actor in India. It's so funny, in that film the actor's real name was Maira and I decided to name the character Maira too because that was the only child reference that I had. I auditioned a lot of kids, and when Aurea came to the audition she just had this quiet gravity that I was immediately drawn to. Also I had once I made a selection of a couple of kids I had them read with the character who was playing the mother and she was in another short film that I made so I knew her already and Aurea just had a great chemistry with her.
TTM: Did you deliberately choose to not have much dialogue in this short?
AK: For me, filmmaking is cinematic and visual. Oftentimes, dialogue becomes a crutch that we use as an easy way out. You have to show it rather than tell it, so that was my challenge. How can I show these things rather than tell these things?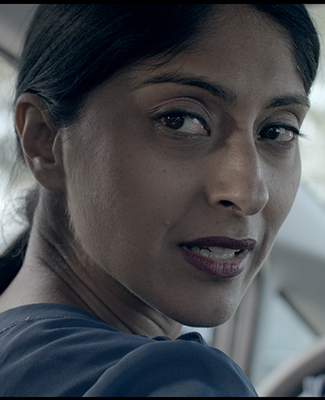 TTM: The mother in this film has, as you mentioned, this carefully curated way of presenting her life. And I feel like in insular communities like Indian communities and other South Asian communities we're often told not to tell people about our problems.
AK: Absolutely. That's another reason there's not much dialogue in the film, there's so much unsaid in this short. The mother is annoyed with her daughter for constantly reaching out to her father but she won't say why, right? And she just wants to pretend. And it's because we're silent about these things because we constantly want to keep face in our society.
I read somewhere that South Asian families in the US have a high rate of domestic violence, but it is not reported. This is the reality of so many women in our community, we're trying to hide this abuse, but I am also aware that it takes everything to tell the world that you are going through this.
TTM: Can you tell us a little bit about how the PBS Online Film Festival works? Viewers can vote on their favorite films?
AK: My other film 'My Dear Americans' won best film a couple of years ago. You basically vote for your favorite film and you can vote every day if you want and you can vote from multiple devices.
TTM: You've partnered with the Center for Asian American Media for this film. How does that relationship work?
AK: They selected my film for the film festival and they also had a screening for their members. Through them, the film was also broadcast through Comcast. It has been really great and they've been empowering me to show my work through all of these distribution channels.
Vote for CAAM's film, #OurTime, in the #PBSFilmFest! Watch, vote, share here → https://t.co/YE93uEx820 pic.twitter.com/PYMts2VKYF

— CAAM (@CAAM) July 23, 2018
TTM: What are you working on next? Can you tell us about it?
AK: I have been working on a feature film for the longest time. But I've also just actually had a baby boy so I'm taking a break and am on my maternity leave right now. I thought I could write a new draft of my feature while on maternity leave, but everyone I would tell this too would say, 'You have no idea what it is like to be a mom.' And I would say, 'But the baby has to sleep right?' But I'm just staring into space trying to fall asleep myself.
But my goal is to make a feature-length film. It's actually based in India and it's called 'Gori' which means 'white woman.' It's a thriller that happens in an all-girls school that happens in a small town in India.
TTM: That sounds so interesting. And how old is your little boy?
AK: He's five months now, he was born in February.
TTM: So you've had a whirlwind 2018 so far.
AK: It's been so intense. It's the hardest thing I've ever done. I thought that making films was the hardest thing, but being a mom is freaking hard.
Voting for the 2018 PBS Film Festival ends on Friday, July 27.
All images courtesy of Arpita Kumar.